Pin It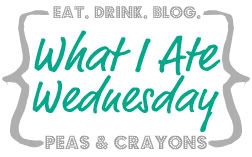 After months of seeing all the cool kids post about their eats in a series called "What I Ate Wednesday," I have finally joined the party hosted by Jenn at Peas & Crayons. Better late than never, right?!
Hello, I'm Courtney! I live in the San Francisco Bay Area, and I love food. Like, a lot. That up there? That's roasted corn and garlic butter. Say it with me, "Mmm!"
I'll let my meals (notice I said "meals" not snacks - they deserve their own WIAW post!) on a normal day do the rest of the talking (or writing, I suppose!).
Breakfast
Coach's Oats with organic strawberries,
honey, walnuts & coconut. Ahh, yeah!
Lunch
Chickpeas, strawberries, avocado & mozzarella
with a smoothie on the side.
Dinner
Whole wheat couscous with swiss chard,
chickpeas, sunflower seeds and garlic cheese.
I have to admit that was kind of fun! :)
Have you ever linked up to WIAW?!